Seafood Specialties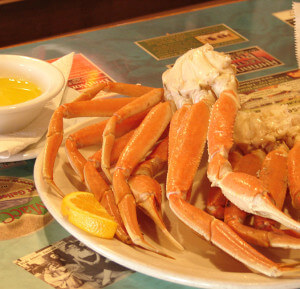 Seafood specialties are served with hush puppies and your choice of 2 sides. (Unless otherwise noted)
Grilled Salmon
Our 8 oz skinless salmon fillet, grilled to perfection with your choice of blackened seasoning, lemon pepper or lightly dusted with our mild blend of seasoned salt. 13.99
Fried Shrimp
Hand breaded, butterflied shrimp deep-fried to a golden brown and served with homemade cocktail sauce.
11 Fried Shrimp 13.99
7 Fried Shrimp 10.99
Grilled Shrimp
Butterflied jumbo shrimp, seasoned and grilled with lemon and garlic butter.
10 grilled shrimp 13.99
6 grilled shrimp 10.99
Coconut Fried Shrimp
Fried shrimp breaded with panko and coconut flakes. Served with homemade pineapple sauce.
11 coconut shrimp 13.99
7 coconut shrimp 10.99
Boiled Peel and Eat Shrimp
Two dozen shrimp, boiled in our New Orleans blend of spices. Served hot or cold 10.99
Crab Leg Dinner
9 oz snow crab clusters, steamed to perfection. Served with homemade garlic butter.
2 clusters 19.99
3 clusters 24.99
Popcorn Shrimp
Crunchy, bite sized shrimp, deep-fried and served with homemade cocktail sauce.
8oz 10.99
6oz 8.99
Grilled Shrimp Pasta
Creamy alfredo sauce, blended with sauteed mushrooms, broccoli, and your choice of grilled shrimp, grilled chicken, or smoked sausage topped with shredded Monterrey jack cheese on a bed of penne pasta. Served with a side salad and garlic toast. 13.99